Welcome to our Events Page
For over ten years we have hosted one major crop circle event each year and that is The Summer Crop Circle Lectures an annual conference in Devizes, UK. However, for 2017 we have re-visioned the event and are offering something new and different. Please look through this page for information on our many crop circle related events – including our Annual Conference, Crop Circle Retreat, Introduction to the Crop Circles talk and our latest Online Workshops and Seminars.
---
Important – 2017 dates to set aside:
Here are a couple of dates to set aside in your diaries for 2017. We are once again offering a 3-day conference event and it will be held in Devizes, Wiltshire – UK. We have re-visioned the event for 2017! – see below for full details. We are also be offering a 3-day retreat for a small group in the heart of Wiltshire's beautiful countryside – this retreat will focus on working with the crop circles, geometry, art, dream work and consciousness
You can now download comprehensive PDF brochures below for both events!
Friday July 28th – Sunday July 30th – Three day summer Conference event
Friday July 28th – Introduction to the Crop Circles talk – open to the public.
Friday August 4th – Sunday August 6th  – Three-day Crop Circle Retreat.
---
Booking Now!
NEW: Summer Lectures Crop Circle Conference 2017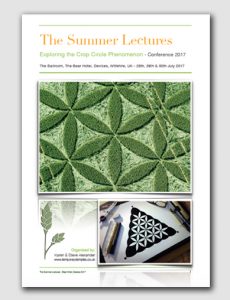 28th, 29th & 30th July 2017 – The Ballroom, The Bear Hotel, Devizes, Wiltshire, UK
Booking Now!
Re-Visioning our Crop Circle Conference: It has been over ten years since we first began the Summer Crop Circle Lectures and during that time the crop circle phenomenon while remaining constant has changed enormously. The way we think about the subject and interact with the circles has moved on and so has the way we view the conference, so for 2017 we have re-visioned the event, freshening it up.
Forging a new ethos: One thing we have wanted to do for a while was bring a new ethos to the idea of the conference; something that looked a little less like entertainment and felt more like community and collegiality. It was time for the conference to mature and become a place where the crop circles were not only enjoyed and celebrated, but where people can come and join in the conversation, share their experiences and participate in a more inclusive and collaborative way. Almost as important as the circles themselves are the people  them, often full of experience, insight and wisdom it is they, in addition to our speakers that make up the 'body conference'.
As always our speakers will be drawn from those who have actually spent time in the fields and those who are actively engaged in the endeavour to better understand the phenomenon. Our speakers will not just be published authors, or professional speakers, but people who genuinely have something interesting and progressive to say about the phenomenon – some will be updating us about where their research has taken them in the last year, or over several years.
Community, Communication, Communion & Consciousness: Finally, conference should also be about community. Opportunities to spend meaningful time with colleagues, or those who share similar interests is so rare in our society these days. We have a tradition of lasting friendships being made at our events over the years and this is something we really value and want to continue. The crop circles are themselves an invitation to participate, modern-day temporary temples in the landscape that arouse the curiosity and evoke almost limitless questions – some of the best conversations I've ever had have been with complete strangers inside the latest crop circle. Equally, some of the best times I have had have been at the Summer Lectures over the years meeting new and interesting people and having the privilege of listening to some of our outstanding speakers.
Download the brochure for the 2017 Conference by clicking here. 
Booking is easy, please email us and we will get back to you with availability and payment options.
Attend the conference as part of an Organised Tour
You can also visit the circles as part of an organised tour. We recommend tour operators Journeys With Soul who offer a Crop Circle Intensive tour each summer. You can take part in this tour from any country (including the UK) and Glenn and Cameron Broughton who lead the tour have many years of experience in leading groups around the crop circles and the sacred Wiltshire landscape. The tour offers attendance at our conference, so makes the perfect package trip. Read More here.
---
Attend an Introduction to the Crop Circles talk

Friday 28th July | Bear Hotel, Devizes, Wilts 
2pm Duration 60 mins | Entry £10.00
As part of our annual conference, we will be presenting an Introduction to the Crop Circles talk in Devizes on Friday 28th of July 2017 at 2pm in the Ballroom at the Bear Hotel. The hotel is in the central market square in Devizes and is easy to find. Entry to the Ballroom is via the car park at the rear of the building – alternatively the hotel staff will be pleased to direct you from the bar or the hotel desk.
The talk is open to everyone whether you are attending the conference or not. The talk lasts for one hour and entry is £10.00. Booking is easy, please email us and we will get back to you with availability and payment options.
---
NEW: Circles of Transformation Retreat 2017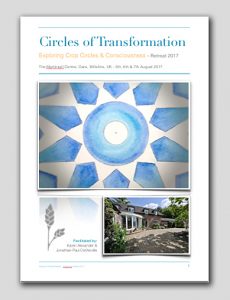 4th, 5th, 6th August 2017: The Martinsell Centre, nr Marlborough, Wiltshire.
Booking Now!
For over a quarter of a century and since the beginning of modern-day interest in the unexplained crop circle phenomenon it has been known that there exists a curious link between crop circles and human consciousness. This relationship often manifests itself through meaningful coincidences, dates, locations, shapes, people, dreams or sightings of strange luminosities. For those fortunate enough to have spent any time with circles, or those who have taken the time to contemplate their flow, shapes and geometry, this sense of personal connection to the formations is tangible, even vitalising, leaving many feeling drawn to the phenomenon in ways and for reasons that are hard to fully articulate.
So what happens when you've read the books, seen the films, attended the lectures and conferences and perhaps even visited the fields? You might be asking yourself "Great, but what comes next?" This retreat is designed exactly for those asking this very knowing question.
This new three-day/two-night programme hopes to create a conducive space in which to further explore the crop circles and their relationship to human consciousness. We'll be looking at different ways in which we can focus our consciousness and engage more intensely with the formations. Through drawing them, contemplating them, visioning them, dreaming them and responding to them on a personal conscious and unconscious level we hope to delve deeply into the ways the circles speak to our psyche.
Download the brochure for the retreat by clicking here. 
Booking is easy, please email us and we will get back to you with availability and payment options.
---
Events Booking Next – Winter 2016/17
1. Online Workshop event: Circles of Transformation – Dates to be announced.
2. Webinar: The Crop Circles and Geometry of the 2016 season – Next Date to be announced.
This workshop runs over three consecutive weeks.
The next dates for this workshop: To be Announced.
All the sessions will run at 7pm – 9pm GMT
A series of three 2-hour online workshops hosted by Karen Alexander exploring crop circles, geometry, symbolism & most importantly their vital role in consciousness change.
Please email  your interest and ask for more information including a PDF brochure.  The price for the entire workshop (all three sessions) is just £70.00 or $85.00 USD.
Click here to visit the booking page, or click on the photo above to download a short PDF brochure for the workshop.
Our sessions will be small, intimate groups of no more than ten participants per session. They will be live & interactive rather than pre-recorded. Our session format will include beautifully illustrated presentational information, with opportunity for  group participation and discussion. No expertise, or experience is required these workshops are for everyone. 
SESSION ONE: Welcome & group introductions | An introduction to the crop circle phenomenon | New thinking about how to approach the phenomenon| Challenging old preconceptions | Engaging with the Symbolic & the Psyche | Learning to 'sit with the question | Group discussion
SESSION TWO: Welcome | An introduction to crop circle geometry (don't panic!) | Sacred Number as a language| Quality vs. Quantity, Duality & Triangulation | Measure, Time & Spirit | The geometry of Jung's Transcendent Function | Group discussion
SESSION THREE: Welcome | Geber's Stages of consciousness evolution & links to perception | Travelling through the dimensions | McGilchrist's Hemispheres & beyond Maslow's pyramid | Crop Circles as the event horizon of  a new consciousness | The new consciousness, what will it look like? | Group discussion & Farewells…
---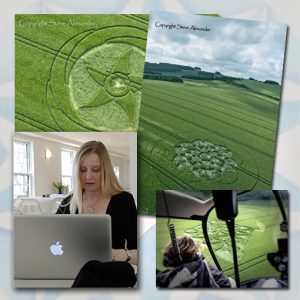 The Crop Circles and Geometry of the 2016 season: Webinar
Next Dates for this webinar to be announced.
7pm – 9pm GMT
£30.00
This is a 2-hour online webinar hosted by Karen Alexander exploring the crop circles of the 2016 season. This two hour presentation will look at the formations that have occurred during 2016, their symbolism, geometry and narrative. Filled with gorgeous photography, drawings and first-hand information, this will be the next best thing to being in the fields yourself this year!
The webinar will take place online and will be live & interactive rather than pre-recorded. Our session format will include opportunity for questions at the end. Information on how to connect to the workshop will be sent to you via email upon booking.
Each crop circle season has its own story, its own narrative, its own myth. Where will the 2016 season have taken us, what will it have revealed, what will it have challenged us with? All these questions will be explored, questioned and contemplated in this unique webinar

The crop circle phenomenon is so much more than just a series of pretty pictures with which to entertain ourselves each summer, its a living and breathing phenomenon full of meaning and portent. Behind the beauty and innovation in the designs lies a hidden link to the landscape, to our culture and to the deepest parts of who we are. For anyone who is willing to invest their time and themselves, the crop circles can be simply transformational.

Join me for what promises to be two hours of inspiration and deep connection to this loveliest of mysteries. Karen Alexander
Our webinar will conducted live over the internet using an internet conferencing platform. You will need a PC, laptop or tablet and a good uninterrupted WiFi signal.
Upon booking we will send you all the details of how to access the sessions and provide support for anyone having trouble connecting.
Karen Alexander is a long time circles researcher (1990-present day) who has for many years brought a thoughtful and introspective touch to researching the crop circles. A respected and influential speaker and writer, her work seamlessly fuses sacred art, spirituality, psychology and philosophy – the scholarly and the intuitive. Karen is perhaps best known as the writer behind the annually published Crop Circle Year Books (1999 – 2015) and Crop Circles: Signs, Wonders & Mysteries (Arcturus Books, 2006 & updated in 2009 and 2013). Her hand drawn images and paintings of the crop circles are widely admired and much sought after.
---
Testimonials…
"Karen, thank you for the informative and enlightening workshop. It was a perfect synthesis of the history of the circles, sacred shape and number, and how it all relates to the evolution of consciousness. It has inspired me to work with the circles on a more interactive level so I can look more deeply into their beauty and meaning. I hope you offer more workshops in the future." Celeste
____
"Just a note to say thank you so very much for the excellent workshop.  I love learning and I certainly learned a great deal from your workshop.  It was very stimulating; definitely lots to think about not to mention the books you recommended which I am looking forward to reading. I had never participated in a live on line seminar before and I was surprised that technically it worked so well. I appreciate the amount of work you put into the presentation.  I enjoyed it immensely.  Thank you once again." Joan
____
"The Circles of Transformation seminar that Karen led is a wonderful way to think about crop circles in a different way.  They are not just beautiful designs, but mostly likely, symbols of communication.  Tying into this, Karen brought us through basic concepts of sacred geometry into some very heady geometry and ideas that are very worth exploring.  Her presentations are clear and well presented and the internet connection was easy.  I highly recommend it." Lily
____
"Those three weeks in the virtual fields went by quickly!  Must be related to the "paranormal" and altered time perception. Thank you for all the work putting together the Circles of Transformation presentation.  It was a masterful endeavor, and you deserve an honorary PhD for the enormous amount of work and thought that went into it.  Openings into boundless realms of classical knowledge are delivered with charm and authority as they relate to the portents of these patterns.  We are enriched in the light of your personal awe and enthusiasm that clearly endure after all these years.  How extraordinary to be part of the cosmic mysteries as made available through the crop circles under your perceptive guidance.  I'd love to take the course again, so deep is the sacred well." Mark 
____
"Your explanations and commentary on matters crop circle warm my heart. I have always been interested in the effects of the non-physical. I find your words and subtle encouragement like an invitation for your readers to be more open to unfamiliar explanantions and commentary. There's room for all of us. It was quite evident in the recent Online Workshop that you put on in April – which I enjoyed – and the informative materials you sent to us. It was good seeing and sharing your illustrations. You invited the participants to be open to the world of possibility, to sit with the question. In response I think we must become adept at using our anxiety for good. Life will always be uncertain. It's time get to know my shadow side, my butterflies, my little voice."  Peter