Visiting the Circles
The crop circles are an invitation to participate in their spaces and their shapes are often designed with the visitor in mind. The hospitality portal (spaces in between elements of the geometry) allow for those visiting to do so without flattening (or further damaging) the standing wheat and many have a labyrinthine quality which invites a ritual walk to the centre.
It is not quite as easy as it once was to visit the circles in the UK. Some farmers are adverse to visitors, but not all. With a little careful planning, a lot of mindfulness and attentive respect for farmers, the sacred landscape and countryside etiquette, it is possible to still have a wonderful, transformative time in some of the circles. Be creative with your visit there are plenty of ways to visit from personal pilgrimage to tour groups and there are a number of crop circle related events each summer that you can combine with your visit to make it informative and well as fulfilling.
---
Crop Circle Visiting Etiquette
Please look through the categories below before venturing out to see the crop circles. Please be as considerate as you can when visiting the countryside and the crop circles. Better still please download the and print PDF file: A guide to Visiting Crop Circles. This is essential reading for all those venturing out into the fields.
---
Combine Visiting the Circles with a Conference or Retreat

The Summer Lectures Crop Circle Conference 2019: It has been over ten years since we first began the Summer Crop Circle Lectures and during that time the crop circle phenomenon, while remaining constant, has changed enormously. The way we think about the subject and interact with the circles has moved on and so has the way we do our conference, with emphasis on community and the sharing of ideas and experiences.
Our 2019 conference will be held on the 2nd, 3rd & 4th Aug 2019 – Fri – Sun. As part of our annual conference, we will be presenting an Introduction to the Crop Circles talk in Devizes on Friday 2nd of August 2019 at 2pm. The talk is open to everyone whether you are attending the conference or not. The talk lasts for one hour and entry is £10.00. Please see our Events Page for more information.
 You'll find our conference is a little less about entertainment and more about community and collegiality. It's an event where the crop circles are not only enjoyed and celebrated, but where people can come and join in the conversation, share their experiences and participate in a more inclusive and collaborative way. As important as the circles themselves are the people who are drawn to them, often full of experiences and stories, insight and wisdom. It is they (in addition to our speakers) that make up the 'body conference'. As always, our speakers will be drawn from those who have actually spent time in the fields and those who are actively engaged in the endeavour to better understand the phenomenon. Our speakers will not just be published authors, or professional speakers, but people who genuinely have something interesting and progressive to say about the phenomenon – some will be updating us about where their research has taken them in the last year, or over several years. At it's heart, the conference is about community. Opportunities to spend meaningful time with colleagues, or those who share similar interests is so rare in our society these days. We have a tradition of lasting friendships being made at our events over the years and this is something we really value and want to continue. The crop circles are themselves an invitation to participate, modern-day temporary temples in the landscape that arouse the curiosity and evoke almost limitless questions – some of the best conversations we've ever had have been with complete strangers inside the latest crop circle. Equally, some of the best times we have had have been at the Summer Lectures over the years meeting new and interesting people and having the privilege of listening to some of our outstanding speakers. Many people use the opportunity our conference presents to meet and make new friends and then head out into the fields to experience the crop circles together. Devizes lies close to many crop circle hotspots and we have been blessed on many occasions with formations close by during the weekend of the event. We will let everyone know which circles are close by and open to the public at the conference.
Crop Circle Retreat 2019  in the heart of Avebury Stone Circle!
For over a quarter of a century and since the beginning of modern-day interest in the unexplained crop circle phenomenon it has been known that there exists a curious link between crop circles and human consciousness. This relationship often manifests itself through meaningful coincidences, dates, locations, shapes, people, dreams or sightings of strange luminosities. For those fortunate enough to have spent any time with circles, or those who have taken the time to contemplate their flow, shapes and geometry, this sense of personal connection to the formations is tangible, even vitalising, leaving many feeling drawn to the phenomenon in ways and for reasons that are hard to fully articulate.
So what happens when you've read the books, seen the films, attended the lectures and conferences and perhaps even visited the fields? You might be asking yourself "Great, but what comes next?" This retreat is designed exactly for those asking this very knowing question.
You can find out more about our conference, retreat and other events here.
---
Crop Circle Teatime
If you are visiting the crop circles as a small group you can book a Crop Circle Teatime with veteran researcher Michael Glickman. Michael welcomes groups to his home in Wiltshire for crop circle discussion and tea. Michael lives in the heart of the Pewsey Vale and his house is often an informal centre for the very latest information and news during the summer months. You can read more about his teatime sessions here. Please contact Michael directly for more information and booking  here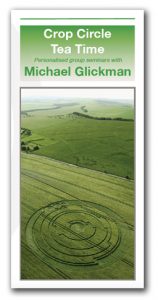 You can now download a PDF copy of the Crop Circle Tea Time flyer by clicking on the image (left)
Praise for Tea Time!
Teatime with Michael is a part of our crop circles tour that everyone always enjoys. After spending time in the fields visiting new formations our tour participants appreciate the chance to sit down and discuss all aspects of this mystery with such a longstanding researcher as Michael. The lively debate is informed by his experiences, research findings, opinions and of course his legendary humour; he loves questions and inquiring minds. The tea and biscuits aren't half bad either! Glenn & Cameron Broughton, Sacred Britain Tours
---
Crop Circle Exhibition & Centre 2019:
The Honeystreet Mill Cafe, Honeystreet, near Alton Barnes, Wiltshire, SN9 5PS (nr Pewsey).
This exhibition is now open all year round!
This excellent and highly recommended exhibition features the key facts of crop circle phenomenon and mixes it with stunning photography and footage. Attached to the exhibition is the Crop Circle Centre, where visitors can hear the latest crop circle news and enjoy a range of refreshments on the canal terrace. A selection of books, cards and inspirational crop circle gifts will also be for sale. For more information about the exhibition please visit their website: http://www.cropcircleaccess.com
About The Exhibition: Ever wanted to learn about Crop Circles? Or meet up with crop circle experts and enthousiasts? Or find out about the latest crop circles and news? If so come to the Crop Circle Exhibition & Information Centre at the brand new Honeystreet Mill Cafe at Honeystreet, near Alton Barnes in the Vale of Pewsey, Wiltshire, UK.The multi-exhibition features the key facts of crop circle phenomenon and mixes it with stunning photography. Attached to the exhibition is the Crop Circle Information Centre, where visitors can hear the latest crop circle reports and news. A selection of books, cards and inspirational crop circle gifts will be for sale. At the adjoining Honeystreet Mill Cafe with garden-terraces along the canal, visitors can enjoy a wide range of delightful refreshments, fresh salads, soups and some unique dishes.Looking forward to meet you in the summer!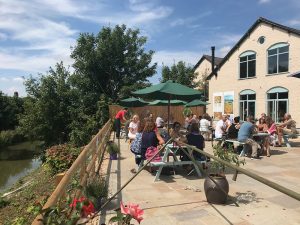 The multi-media display features a large selection of high quality photos of some of the most intricate and perplexing crop circles. It informs via text, footage, videos and interactive map-displays about the history, facts, research, theories and ideas and farmers' views regarding the crop circle phenomenon. The focus of the exhibition lies in the unexplained part of the crop circle phenomenon. The man-made element of crop circles is also covered.
The crop circle exhibition premiered in the Wiltshire Museum in Devizes UK and has been touring since. Its goal is to inform a wider public about the crop circle phenomenon and to emphasize that, alongside the man-made circles, there is an authentic and mysterious phenomenon at work. The exhibition is compiled and curated by crop circle researcher and founder of the Exhibition Project Monique Klinkenbergh, together with long term researcher Andreas Mueller. We have had the cooperation, support and materials from many top national and international scientists, researchers and photographers.
---
Flying over the crop circles can be an awe-inspiring experience – they were meant to be seen from the air! The are several ultra-light companies in Wiltshire that will take you for a short flight over the latest circles, but by far the best aerial experience is via a small helicopter. We can recommend Heli Air based at Thruxton Aerodrome – about 30 mins by car from Marlborough. They have years of experience flying visitors and professionals over the circles (including us!). More details here.
---
---
A very quick guide…
Do not enter a field without permission from the farmer. Some farmers allow visitors, some do not. Those that do tend to place an honesty box either at the entrance to the field, or in the circle itself. Please contribute, the customary donation is £3.00 – £5.00 per person (more is always welcome). This helps build and maintain understanding between the crop circle world and the farming community, by helping the farmer recover his costs for damaged crop. If you are asked to leave a formation by a member of the farming staff do so, quickly and politely.
Never, ever, smoke cigarettes (or anything else!) in a crop field. They constitute a very dangerous fire hazard.
Never leave any litter or objects of any kind inside the circles, they may cause a hazard to farming machinery during harvest, or crop spraying, and could be potential danger to wildlife. This includes crystals or other offerings.
Do not trample down any standing crop when making you way into the fields or around the circles. Always follow the tractor lines, even if this means walking out of the field and in again if you pick the wrong route into the circle! Further damage to crop by visitors irritates the farmers enormously and spoils the aerial views of the circles for those flying over them.
If you park your car nearby, do not park in farm or field entrances where you may cause a nuisance to farmers. And never leave anything on display in your car that might attract the attention of thieves. Lock everything away securely, better still, take only what you need to carry with you in person.