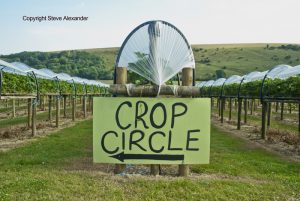 Latest Crop Circle Information
Keeping up with the latest crop circle information will be essential during your trip. If you have internet access at your accommodation base you can log onto the internet to look up the latest circles. You can use the Latest Circles page on this website to see the latest pictures, look up locations and find out about access. Please always remember not to visit circles where the farmer has not permitted access.
Beware! Mobile phone access to the internet can be patchy in the UK countryside – and expensive if you are using your mobile phone in a foreign country. Check with your provider for exact details and costs. If you don't have internet access, The Henge Shop at Avebury has a crop circle map with pins and photographs to indicate the latest discoveries. The Henge Shop is located in Avebury village (between Marlborough & Devizes) – the shop is inside the stone circle! Please don't ring the shop for information – they are exceedingly busy in the summer months – please visit the shop in person. They also sell the latest aerial photographs of the crop circles by Steve Alexander and a selection of crop circle books and merchandise.
Avebury Henge Shop, High Street, Avebury, Marlborough, Wiltshire SN8 1RF
---

The Temporary Temples Crop Circle Conference & Events 
Please see our Events Page for the very latest information. We have a series of online courses, workshops and our annual conference scheduled for 2022 and you can also access our video archive from our previous events!
Each year we run a number of crop circle related events. All our events will take place online during 2022 while the effects from the covid pandemic subside and things get back to normal. We will appraise the situation for 2023.