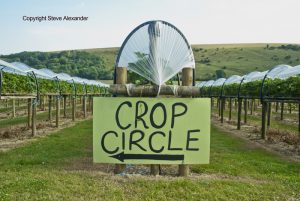 Latest Crop Circle Information
Keeping up with the latest crop circle information will be essential during your trip. If you have internet access at your accommodation base you can log onto the internet to look up the latest circles. You can use the Latest Circles page on this website to see the latest pictures, look up locations and find out about access. Please always remember not to visit circles where the farmer has not permitted access.
Beware! Mobile phone access to the internet can be patchy in the UK countryside – and expensive if you are using your mobile phone in a foreign country. Check with your provider for exact details and costs. If you don't have internet access, The Henge Shop at Avebury has a crop circle map with pins and photographs to indicate the latest discoveries. The Henge Shop is located in Avebury village (between Marlborough & Devizes) – the shop is inside the stone circle! Please don't ring the shop for information – they are exceedingly busy in the summer months – please visit the shop in person. They also sell the latest aerial photographs of the crop circles by Steve Alexander and a selection of crop circle books and merchandise.
Avebury Henge Shop, High Street, Avebury, Marlborough, Wiltshire SN8 1RF
---

Why not combine your trip with other crop circle related activities?
Why not combine your trip with other crop circle activities? Our own Crop Circle Conference takes place at the beginning of August and is held in the pretty market town of Devizes, close to many regular crop circle sites, ancient earthworks and stone monuments. Come and meet some like-minded people and hear the latest news about the phenomenon. See our Visiting the Crop Circles page for more information on the different ways in which you can make your trip to visit the circles richer and more interesting.
Our 2019 conference will be held on the 2nd, 3rd & 4th Aug 2019 – Fri – Sun. As part of our annual conference, we will be presenting an Introduction to the Crop Circles talk in Devizes on Friday 2nd of August 2019 at 2pm. The talk is open to everyone whether you are attending the conference or not. The talk lasts for one hour and entry is £10.00. Please see our Events Page for more information.