Flying over the crop circles
Complete your visit to the crop circles by taking a flight over the fields. Crop circles are meant to be seen from the air and the experience is magical.
Important notes on choosing a flight: Helicopter is by far the best way to fly over the circles. It's quick and comfortable, and great if you want to try your hand at a little aerial photography. Most helicopter companies are licensed and insured to take fare-paying passengers on pleasure flights. However, it's worth checking this if you are not sure, correct insurance and licensing is essential to safe flying. Group together with friends and take up a larger aircraft to make the trip more cost effective.
If you plan to use your photography commercially, i.e. sell your photos or to publish them, you will need to make sure that your pilot has a full commercial license to carry out aerial work. Please make sure you mention this when you make your booking.
Be aware: Many micro-light (ultra-light) centres will offer you a vastly cheaper alternative for flying – especially when compared to the cost of a helicopter flight – and many do take tourists regularly over the crop circles. However, almost all are not properly licensed or insured to take fare-paying passengers or to take photographers who plan to publish or sell their work. This requires a 'commercial license' – a 'private pilots license' is not adequate. Most get around this fact by offering you a 'training flight'. However, you should be aware before deciding to fly this way, that this is not always strictly speaking legal – no matter what you might be told! Please make sure you are fully explore your alternatives and are fully aware of any situation before you decide to fly. Be aware especially about insurance cover in the case of an accident and any implications for your travel and personal insurance.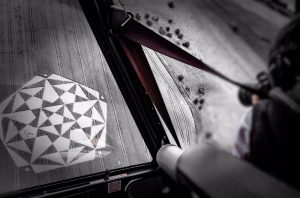 We recommend Heli Air to fly over the crop circles.
Heli Air Thruxton
Thruxton Aerodrome
Hangar 2 Thruxton Aerodrome Andover Hampshire SP11 8PW
Tel: 01264 773373
---
Combine your trip with other crop circle related activities
Why not combine your trip with other crop circle activities? Our own Crop Circle Conference takes place at the end of July and is held in the pretty market town of Devizes, close to many regular crop circle sites, ancient earthworks and stone monuments. Come and meet some like-minded people and hear the latest news about the phenomenon. See our Visiting the Crop Circles page for more information on the different ways in which you can make your trip to visit the circles richer and more interesting.
As part of our annual conference, we will be presenting an Introduction to the Crop Circles talk in Devizes on Friday 28th of July 2017 at 2pm. The talk is open to everyone whether you are attending the conference or not. The talk lasts for one hour and entry is £10.00. Please see our Events Page for more information.