Description
About the Crop Circle Year Book 2017:
Crop Circle Year Book 2017 – How our books are put together…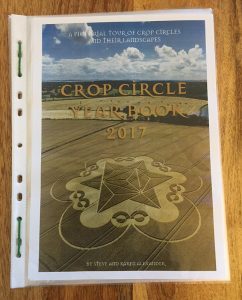 Our Year Books begin with us laying out the imagery on each page (in low res), we select pictures that give as much of an overall impression of the circle that we can. Its a big responsibility choosing the right pictures for each circle!
We then add drawings to illustrate and show the geometry of the given circle. Once the pages are laid out, the text is written to fill the spaces so it has be as concise and pertinent as possible!
Once the text is written it has to be proof read then all the materials are given over to the book designer for laying out in high resolution.
Much love is poured into our books. We want to show the circles at their most beautiful and inspiring.
See below for images of the 2017 book in progress…
THE CROP CIRCLE YEAR BOOK 2017 is the nineteenth in a series of year books by Steve Alexander (photographer) and Karen Alexander (writer) portraying the beautiful and mysterious crop circle phenomenon within the UK. This popular series of full colour, fine-art-reproduction books are privately published in limited numbers and come to you directly from the authors, they have become an invaluable and magical window onto the fields of southern England, and are the only annually published books on the subject.
This edition combines inspirational photographic and artistic imagery from the 2017 crop circle season with thought provoking text to create a unique book full of the atmosphere and ambience of this amazing phenomenon.
About the Crop Circle Year Books:
The crop circle year books are carefully considered, beautifully designed books. Filled with stunning photography, including many full page landscape views of the crop circles along with overheads and detail shots – by Steve Alexander. The photography is accompanied by articles from Karen Alexander and incisive commentary text throughout. Our Year Books are our flagship product. Self published in small numbers (no big publisher or distributors), they come directly from us to you. Printed on satin finish paper, the materials used to produce these books are top quality. The covers are laminated with gold foil titles. Our books are true collectors items, treasured by all those who have them. In fact they are generally considered to be the most important crop circle document of the year. Proceeds from the sales of these books go directly to fund our continuing coverage of the circles.