Description
About our Photographic Enlargements: Each 20 x 30 inch image is printed on glossy photographic paper and is supplied hand-rolled and posted in a strong cardboard tube or is flat-packed to ensure safe delivery. We have chosen a selection of our favourite crop circles from the 2019 season for you to choose from.
History & Connections: There was a crop circle reported at Barton Stacey in 1995, a wide ring, on the 8th of August.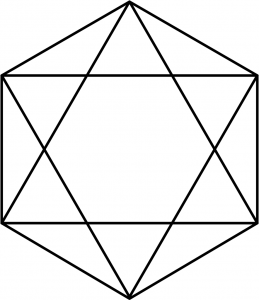 Design & Symbolism: This circle is another six-fold, and one of the largest and most complex of the 2019 crop circle season. There is both a hexagram (made from two triangles overlaid)  and hexagon in the design and an interesting set of small standing elements inside the central triangle. There are three sets of fifteen standing elements, one set in each apex of the inner triangle. These are created by the intersection of rings and straight lines. Five rings and five lines – another interference-like patterning.
It is reminiscent of the Merkaba Star, a shape used in some spiritual practices connected with the idea of ascension.
Mer means Light
Ka means  Spirit
Ba means Body
The Merkaba star is in fact a 3D Hexagram – or a star tetrahedron. It is known as a self-dual polyhedron. It is also a central part of the geometrical symbol Metatron's Cube. For many, this is a sacred symbol. It's also one filled with light and spirit.
In Miranda Lundy's Book 'Sacred Number', she titles the chapter about six 'All things Sixy'. Personally, I think there is something a little sexy about six; its wonderful capacity for harmony and integration is so pleasing to both the eye and the heart. As I was born on the 6th –  I'm a little biased!
You can read more about this circle here.