Visiting the Circles
The crop circles are an invitation to participate in their spaces and their shapes are often designed with the visitor in mind. The hospitality portal (spaces in between elements of the geometry) allow for those visiting to do so without flattening (or further damaging) the standing wheat and many have a labyrinthine quality which invites a ritual walk to the centre.
It is not quite as easy as it once was to visit the circles in the UK. Some farmers are adverse to visitors, but not all. With a little careful planning, a lot of mindfulness and attentive respect for farmers, the sacred landscape and countryside etiquette, it is possible to still have a wonderful, transformative time in some of the circles. Be creative with your visit there are plenty of ways to visit from personal pilgrimage to tour groups and there are a number of crop circle related events each summer that you can combine with your visit to make it informative and well as fulfilling.
Crop Circle Visiting Etiquette
Please look through the categories below before venturing out to see the crop circles. Please be as considerate as you can when visiting the countryside and the crop circles. Better still please download the and print PDF file: A guide to Visiting Crop Circles. This is essential reading for all those venturing out into the fields.
Combine Visiting the Circles with a Conference or Retreat
Our annual crop circle conference The Summer Lectures, is held in the heart of Wiltshire each summer and is timed to coincide with the most prolific part of the crop circle season – end of July. Combining the conference and a few days for visiting whatever circles are available makes the perfect trip. In August 2017 we are also offering a unique Crop Circle Retreat in the heart of the Pewsey Vale. You can find out more about our conference, retreat and other events here.
Organised Tours
You can also visit the circles as part of an organised tour. We recommend tour operators Journeys With Soul who offer a Crop Circle Intensive tour each summer. You can take part in this tour from any country (including the UK) and Glenn and Cameron Broughton who lead the tour have many years of experience in leading groups around the crop circles and the sacred Wiltshire landscape. The tour offers attendance at our conference, so makes the perfect package trip. Read More here.
Crop Circle Teatime
If you are visiting the crop circles as a small group you can book a Crop Circle Teatime with veteran researcher Michael Glickman. Michael welcomes groups to his home in Wiltshire for crop circle discussion and tea. Michael lives in the heart of the Pewsey Vale and his house is often an informal centre for the very latest information and news during the summer months. You can read more about his teatime sessions here. Please contact Michael directly for more information and booking  here.
Crop Circle Exhibition
For the past several years there has been a large Crop Circle Exhibition held in St Peters Church in Marlborough town centre, Wiltshire. The Church is now a cultural centre and has a small gift shop and coffee shop . It is anticipated that the crop circle exhibition will run from late July through to mid-August. Please check back for dates as we have them.
Organised by researchers Monique Klinkenbergh and Andreas Müller, many well-know researchers (ourselves included) have contributed and given their materials to the exhibition. The exhibit it is filled with beautiful large scale photography and accompanied by text describing the history and nature of the crop circle phenomenon. Entry is free. More details can be found here.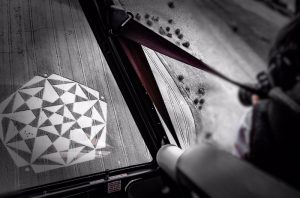 Flying Over the Crop Circles
Flying over the crop circles can be an awe-inspiring experience – they were meant to be seen from the air! The are several ultra-light companies in Wiltshire that will take you for a short flight over the latest circles, but by far the best aerial experience is via a small helicopter. We can recommend Heli Air based at Thruxton Aerodrome – about 30 mins by car from Marlborough. They have years of experience flying visitors and professionals over the circles (including us!). More details here.
A very quick guide…
Do not enter a field without permission from the farmer. Some farmers allow visitors, some do not. Those that do tend to place an honesty box either at the entrance to the field, or in the circle itself. Please contribute, the customary donation is £3.00 – £5.00 per person (more is always welcome). This helps build and maintain understanding between the crop circle world and the farming community, by helping the farmer recovers his costs for damaged crop. If you are asked to leave a formation by a member of the farming staff do so, quickly and politely.
Never, ever, smoke cigarettes (or anything else!) in a crop field. They constitute a very dangerous fire hazard.
Never leave any litter or objects of any kind inside the circles, they may cause a hazard to farming machinery during harvest, or crop spraying, and could be potential danger to wildlife. This includes crystals or other offerings.
Do not trample down any standing crop when making you way into the fields or around the circles. Always follow the tractor lines, even if this means walking out of the field and in again if you pick the wrong route into the circle! Further damage to crop by visitors irritates the farmers enormously and spoils the aerial views of the circles for those flying over them.
If you park your car nearby, do not park in farm or field entrances where you may cause a nuisance to farmers. And never leave anything on display in your car that might attract the attention of thieves. Lock everything away securely, better still, take only what you need to carry with you in person.