Description
TEMPLE IN THE HILLS: The Discovery of the Original Stonehenge
By ROBIN HEATH
From the Back Cover:
The current model of the prehistoric world overlooks (or ignores) several cultural components that author and presenter Robin Heath demonstrates were known about and available to the Neolithic megalith builders. Over the past thirty years, the author has rediscovered these components through extensive research into prehistoric monuments within their sacred landscapes. Heath now reveals that the design for Stonehenge originated in the 'bluestone country' of the Preseli hills, in West Wales. He also shows the reader where this 'First Stonehenge' monument is located. Temple in the Hills is the story of this discovery, and marks a breakthrough in understanding the Neolithic science stored within solitary megaliths, or within collections of megaliths that define geodetic patterns across the landscape.
Temple in the Hills shows the Neolithic culture to have been intelligent, creative, determined and talented, even playful, and demonstrates how it managed to solve complex cosmological problems using only Stone Age technology. The evidence for this claim takes the form of an integrated and elegant system of astronomical, geometrical and metrological Imowledge, which led to monuments that are shown to have been temples to cosmic order. The book's core narrative also connects the Preseli Hills with Stonehenge in an entirely new way, far more telling of prehistoric capabilities than how a few bluestones ever found their way to Stonehenge. On the journey we meet Annwn and the Caer Sidi of Welsh legend, how the traditional design of temples has always been linked to the motions of sun, moon and stars, and even a more recent search for a 'Preseli Zodiac'.. The storyline is supported by a display of lively photographs of the monuments in their landscapes, and other graphics, which bring the reader directly into contact with the research process as an adventure. Heavily Illustrated, many in full colour.
About Robin Heath: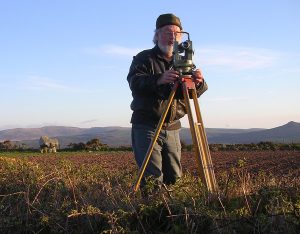 Previously Head of Department of Coleg Ceredigion, Robin Heath has a science degree and was previously a research and development engineer in the electronics industry, prior to a 15 year career as Senior Lecturer in Mathematics and Engineering. Now an internationally published author on the subject of ancient science, he is well known and widely respected on the UK lecture circuit and has recently been awarded an Honorary Research Fellowship within the Department of Archaeology and Anthropology at the University of Wales, Lampeter. An active researcher, the author also undertakes weekend site instruction in archaeoastronomy for Sky & Landscape, and has been consultant for several television documentaries and to Ouroboros Educational Trust. Other details are available at www.robinheath.info